Job Search news from BCG Attorney Search
08/10/19
 
Blank Rome Welcomes Consumer Finance Associate in Los Angeles
 
Summary: Scott T. Reigle has joined the Blank Rome's Los Angeles office as an associate in the consumer financial services group.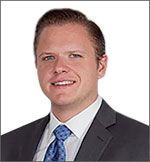 Blank Rome LLP is pleased to announce that Scott T. Reigle has joined the Firm's Los Angeles office as an associate in the Consumer Financial Services group, which welcomed seasoned consumer finance litigation partner Scott D. Samlin to the New York office earlier this month.
 
Scott Reigle joins Blank Rome from Anglin, Flewelling, Rasmussen, Campbell & Trytten. He concentrates his practice on a variety of consumer finance litigation matters, including disputes under TILA, RESPA, FCRA, ECOA, FDCPA, state law UDAP claims, and a variety of common law claims. Scott represents major financial institutions, as well as corporate and individual clients, in state and federal litigation. He is also experienced in advising clients on regulatory compliance, general business strategy, and formulation and implementation of policies and procedures.
 
Admitted to practice in California, Scott earned his J.D. from Washington University School of Law in St. Louis and his B.S. in Business Administration from Washington University in St. Louis.
Law School Profile
sponsored by LawCrossing

University of Michigan Ann Arbor School of Law
The University of Michigan Ann Arbor School of Law or the Michigan School of Law as it is popularly known is one of the oldest law schools of the U.S. and it consistently ranks among the top 10 law schools of the U.S. in rankings published by different sources and organizations. Michigan Law School is considered to have one of the best campuses and collegiate environment among U.S. law schools.
Articles By Harrison Barnes