Job Search news from BCG Attorney Search
06/07/19

Hogan Lovells Northern Virginia office moves to state-of-the-art Boro Tower

Summary: Hogan Lovells Makes a New Home in the Boro Tower of Fairfax County.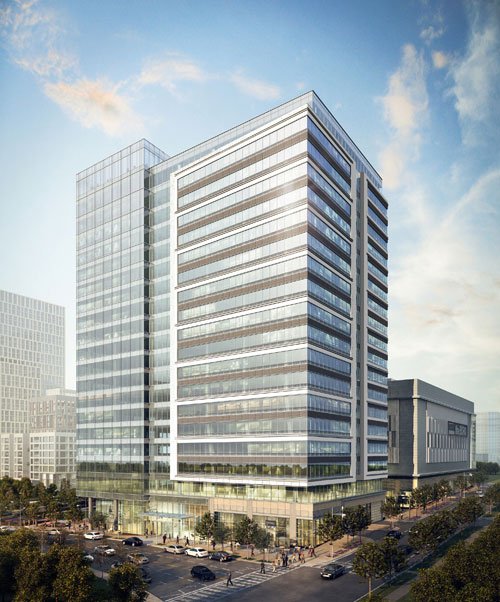 Tysons, Virginia 3 June 2019 – Hogan Lovells Northern Virginia office has officially moved to the Boro Tower at 8350 Broad Street in Tysons.

"We are excited to move into our new home," said Tom Connally, Hogan Lovells Northern Virginia Office Managing Partner. "The office is in a state-of-the-art building, conveniently located near the Metro, and surrounded by the walkable amenities of the Boro development. Like all of the firm's newer offices, the building is also LEED-Gold certified, and so meets our environmental goals and will reduce our carbon footprint."

The new 20-story trophy Boro Tower is built on the highest point in Fairfax County, and the Hogan Lovells office on the 17th and 16th floors offers spectacular views of the District, Maryland and Virginia all the way to the Blue Ridge Mountains. The Gensler-designed space features floor-to-ceiling glass throughout the virtually column free floors, a contemporary conference center, backlit glass walls, and an open floor plan to enhance the Hogan Lovells collaborative work environment. 

The firm's Northern Virginia office has over 60 employees, including more than 40 lawyers. It specializes in solving legal challenges in the aerospace, defense, government services, automotive, healthcare, hospitality, telecom, satellite, and technology sectors. Its diverse practice areas include mergers and acquisitions, private equity, commercial litigation, intellectual property and licensing, antitrust, labor and employment, and government contracts.

As part of the move, Hogan Lovells Northern Virginia office is also donating six truck-loads of conference room and office furniture, as well as computer equipment, to Legal Services of Northern Virginia.
Law School Profile
sponsored by LawCrossing

University of Michigan Ann Arbor School of Law
The University of Michigan Ann Arbor School of Law or the Michigan School of Law as it is popularly known is one of the oldest law schools of the U.S. and it consistently ranks among the top 10 law schools of the U.S. in rankings published by different sources and organizations. Michigan Law School is considered to have one of the best campuses and collegiate environment among U.S. law schools.
Articles By Harrison Barnes